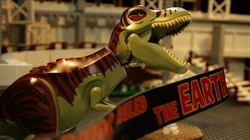 Animator Paul Hollingsworth (with Digital Wizard Studios) and his daughter Hailee did something very weird, truly unusual and so cool!
Using some $100,000 of LEGO pieces, they digitally managed to recreate the 1993 dino-thriller Jurassic Park along several other video footage worth our time watching it.
Paul and Hailee were kind enough to share with us the behind the scenes details, some nice tricks about video shooting, compositing and good ol' time frame-by-frame Lego animation.
I strongly advice you to check their Youtube Channel (DigitalWizardz) since it's a feast for die-hard Lego fans around the world!
Don't miss other movies like Lego Avengers (on Digital Wizard Studios):
Even Mashable reported about this cool video productions.
I'm a long-time Lego+stop motion fan… check my own weird experiment (back in 1980!):